Russ Debuts "Shake The Snow Globe"
February 5, 2020
Written By: Marie-Ann Liriano
Edited by: ToshNicole & Aronys Perez
Russ Shakes The City
When you're invited to a listening party it can go a few different ways.  You can show up and join the artist as they zone out to their creation in real time. Super dope. Depending on the musician, you may even get the 411 on behind-the-scenes action and how certain songs came to be. As a fan, these moments, which usually happens in intimate venues, are truly amazing. They make the project more meaningful and inspire you to share, bringing about new fans along the way.
Then you have album release parties that are like full-on concerts. Those of us lucky enough to attend Russ' listening party this past Friday got the best of both worlds. Russ went rogue, in the best way possible, free styling his way through the night vs. sticking to the script outlined on the flyer. He showed his fans major love by performing two full sets off his new album. It was one for the books for sure! 
#Recap Kevin Lopez
Much love to Dave, George K. & DJ Blake for giving S.O.B.'s access to this amazing event in this beautiful space! DJs Ammo , Flipsyde & Calvin were also in the building for the special occasion. Blue Midtown embodies its name visually, with blue lighting cast over musical artwork and turntable tables. You can tell it was designed by a lover of music.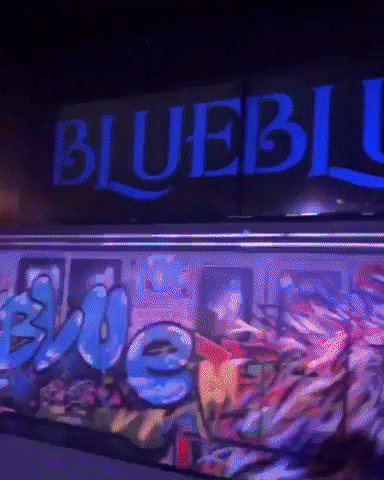 After the impromptu concert, the do-it-yourself artist, backed by Columbia Records, located his gigantic billboard in Times Square at 4 am. He shared the moment on Instagram with the following statement: "Man.. (giggles) Life's a little bit different now."
Touché.  Congratulations!
Thanks for the shot of Henny <3