One Music Fest 2019
October 18, 2019
Last weekend was not only my first time attending One Music Fest, but my first time in HotLanta, a city that totally lived up to its name!  With 95 degree weather on both days of this amazing artist packed festival, the energy was absolutely incredible and the wardrobes were sizzling! Add sponsors? Sponsored By Ford, Avion, Seagram's & AT&T, BMI, Jameson, Martell etc. or just map of festival with sponsors below:
Atlanta natives and music fans from all over the world attended this 2-day Live Music event with 3 stages, multiple food trucks, sampling stations for new brands and much more.  There were over 50 artists, some not even announced, who graced the OMF stages. Big Tigga was chosen as host and he made it to as many stages as possible, while also visiting the media tent and doing spontaneous interviews with the artists.
Others like Da Brat came by just to catch the show, and what a line up it was! R&B headliners included Summer Walker, Ari Lennox, Queen Naija & Snoh Aalegra.  Those representing for hip hop ranging from DMX, Busta Rhymes, and Three 6 Mafia to Tory Lanez, Rae Sremmurd, Rick Ross and Gucci Mane.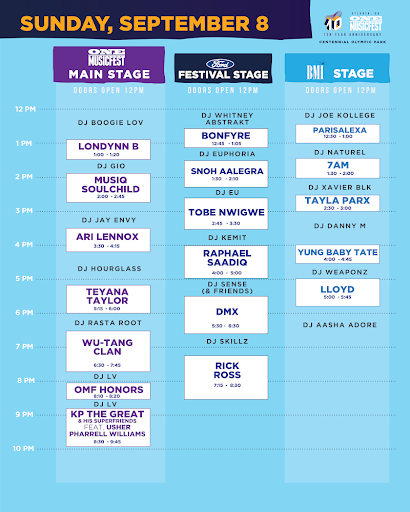 There were so many epic moments.  Trina, who had recently lost her mother, still came through for her fans in a major way with the rest of her crew which included Trick Daddy, T-Pain & Uncle Luke.  She performed all of her hits between tears, while the crowd made sure she felt their love, support and appreciation throughout her entire performance.  
Teyana Taylor captivated the audience with her sexy, sultry stage show.  She brought the heat with beautiful back up dancers who brought a fan onto the stage that made her so flustered, she had to throw her shades on!  With hubby Shumpert on the 1s and 2s, she jumped into the audience to make sure she came close to as many fans as possible. I would suggest adding "See Teyana Taylor Live" to your bucket list!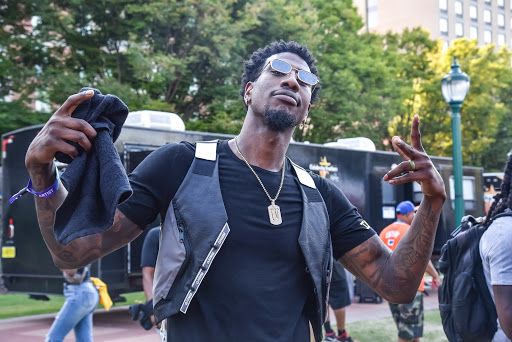 Raphael Saadiq mesmerized fans with new music, classics and a glimpse into all the music he's written for other artists, including: Earth Wind & Fire, Erykah Badu, D'Angelo, Solange & Rick Ross.  The crowd went wild for all of it, proving his staying power. Saadiq also showed Bonfyre, a fellow artist on the line up, some love, and together they sang the Lucy Pearl classic "Dance Tonight".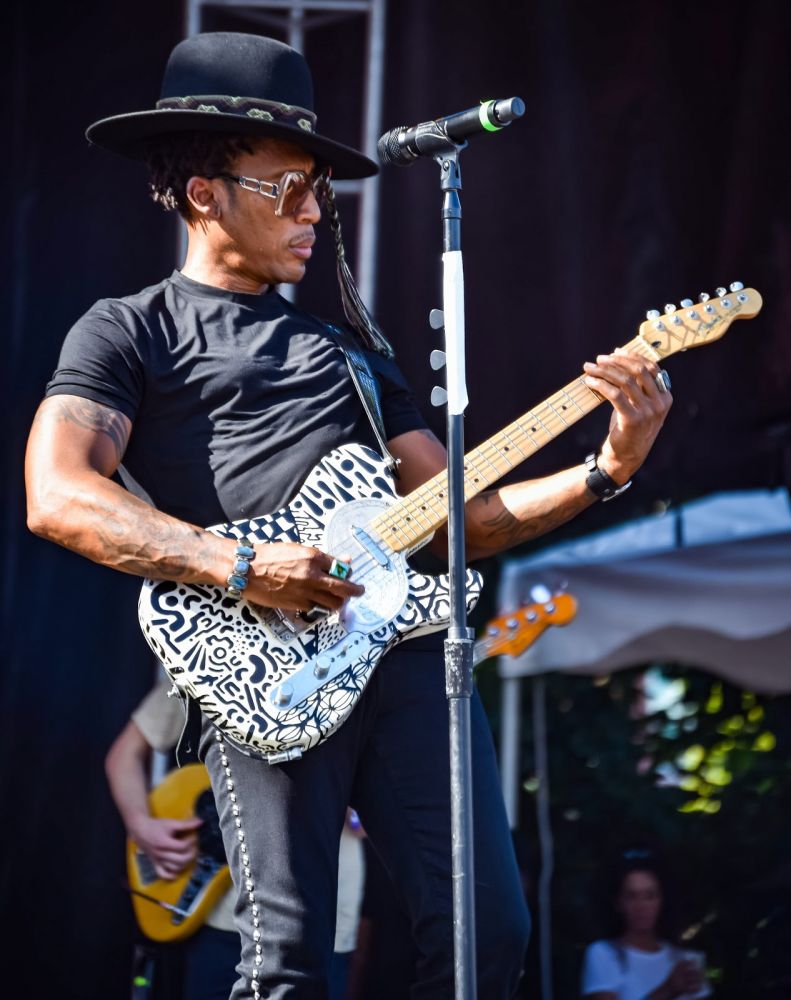 Musiq SoulChild thanked the crowd for their support throughout his entire career, crooning out new music like the grammy nominated "I do" and classics like "Love" and "Halfcrazy", which we all knew word for word.   He made sure to correct those who call his music R&B. "My Music is Hip-Hop Soul, for those that don't know", and he proved it. The entire crowd was dancing to "B.U.D.D.Y." and "Just Friends" right along with his amazing back up singers/dancers, both coincidentally named Jasmine.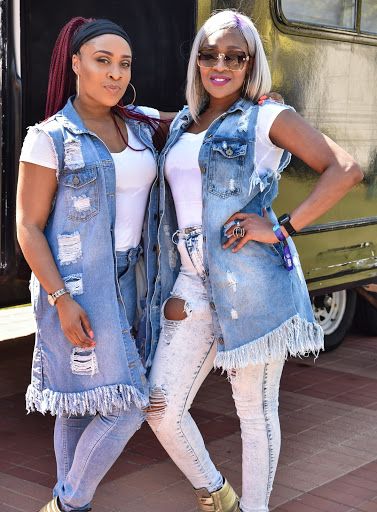 Wu-Tang Clan came out full force, with ODB's son YDB performing all of his Dad's lyrically tongue-twisting and intense verses with his same crazy energy.  It was amazing to watch the entire crew still supporting not only each other, but this young man with so much promise who must intensely remind them of their friend ODB. They brought out Wu classics, with individual members intermittently performing their own solo hits.  To this day "Wu-Tang Clan ain't nothing to F with!"
You would think all of these epic moments could not be topped, but the OMF producers created the ultimate wrap up performance by not only presenting Jermaine Dupree and Dallas Austin with awards, but also having KP The Great & Friends close out the show. The schedule only mentioned Pharrell Williams and Usher, who obviously are crowd favorites, but so many others came through with a cameo: Lil Nas X, Monica, Waka Flocka, Yung Joc & Lil Jon to name a few.
KP brought out Trey Songz by playing a piece of the "Power" intro, which recently led to a lot of controversy when he remixed the original Joe version.  KP said, "We know you guys had an issue with this song, but what about this?!" And went right into "I Invented Sex" as Trey Songz shocked the crowd and then performed "Say Aah".  Lil John & Usher reminded us of their epic collaborations like "U Don't Have to Call" and "Lovers and Friends".
Pharrell, with his infectious energy, was a definite highlight for me, and who doesn't want to end a Festival with "Happy!"?
The event was a well organized, well thought out success staffed by the most wonderful people.  OMF offered their VIP customers multiple areas to relax with low concert chairs and regular chairs with tables.  VIP guests had half of the front stage to their disposal. As far as Media, not only did the OMF staff put us all in a group email to ensure we all got to know each other and could ask questions, but the Media Tent set up and minute to minute text updates were also very helpful.  They had a tented snack and refreshments station with water, gatorade & lemonade so that we could take breaks from the scorching sun.
There were 3 Radio stations set up for artist interviews.  This was convenient for Media and artists alike, as we would be texted when an artist was approaching the Media Tent, we'd get our shots, they'd do their 3 radio interviews, than the artist could go relax in the Artist Village or go watch a fellow musicians performance.  The Artist area was loaded with trailers, a tent with seating a DJ and the infamous Wu Tang Ice Cream Truck w/ flavors like: French Vanilla, Butter Pecan & Chocolate Deluxe.
We ran into up-n-coming MC Londynn B in the artist tent with her crew celebrating her amazing performance.  This was an area where artists can mix and mingle and take a break from fans and media.
One MusicFest is one of those must-see Festivals.  There is something for everyone and enough space to enjoy yourself without feeling claustrophobic.  Centennial Olympic Park is in the center of the City and close to airports and the highway, making it an easy commute for local fans and those, like me, travelling from out of state.  The lines for admission, drinks, food and bathrooms were all manageable, which made the experience less stressful, especially considering the heat. I would definitely return with bells on! This music lover was absolutely satisfied.