Rolling Loud NYC 2019 ReCap
October 18, 2019
Written By Marie-Ann Liriano & Max Camacho
Photo Credits: @RollingLoug
This Weekend Rolling Loud bulldozed it's way into the NYC Festival Scene so successfully it left guests wondering, how has this really never happened before??!!
The Line-up was incredible, the weather was perfect, and the venue was so spacious I hardly ran into anyone I know!  Citifield was packed with hyped attendees ready to see some of the hottest names in hip hop. Also in attendance were some of the biggest movers and shakers in the industry. Execs from industry titans like HOT 97, Vibe Magazine, The Source and Hip Hop DX, along with representatives from every music venue, talent and booking agency made it to Queens to catch the vibes.
There were over 48 artists per day on 3 stages. Multiple photo op set-ups with Audible Treat were available, and there were even free glam stations for the ladies, with complimentary hair braiding and glitter! A full basketball court rested just alongside the Sauce Stage, providing festival goers the chance to get hard in the paint in between the insane acts. 
There were a few tiers of tickets.  GA, VIP, The Sky Deck, A Press Tent, the Photo Pit for Media and the Artist areas. Fans may have been hard pressed to decide which acts they would choose to see, or even which stage to hold down for the day, but no matter what choice you made, you were in for some real fun times. 
On Saturday, the beautiful Chinese Kitty brought out her big bro, Phresher, starting off the show just right. DaniLeigh came through with her hit singles "Lil Baby" and the Chris Brown featured "Take It Easy" w/ her brother Brandon Bil$$ as support.  She let us hear her new single "LeviHigh" Ft. DaBaby, and the crowd went wild.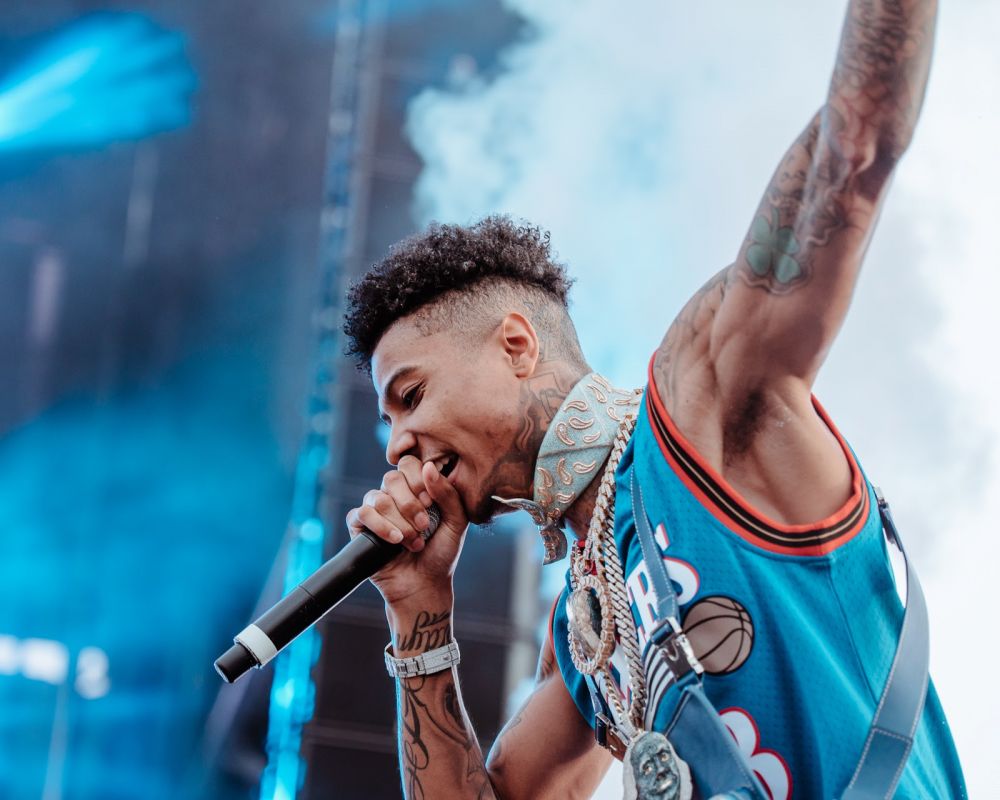 It truly was a sight to see time stop as Sheck Wes delivered his iconic Mo Bamba, catching passers by like deer-in-the-headlights who had no choice but to lose control and go crazy. Ski Mask The Slump God and Blueface kept the party going as the sunlight faded, and when night finally fell, you could feel the energy ramping up for Gunna, who amassed one of the many absolutely monstrous crowds that certified RL's overwhelming success.  
His performance of "Yosemite" had everyone buzzing with energy, but when Travis' verse came, somehow things got even crazier. Maybe it's because we all were anticipating Travis Scott's closing performance later that evening. But before that, Playboi Carti set the stage with booming air raid sirens, letting everyone in the 5 mile radius know that it was official: Carti was in the house. 
The tension was thick as mosh pits began setting up sporadically throughout the crowd of 20k+. No matter if you were right next to the stage, in the middle or near the back, you were about to get involved in some heinous shit. "If you're scared, get the **** out!" bellowed Carti's DJ, and honestly, maybe we should have been, because we had no idea what was in store for us. Then, "RIP Fredo" erupted from the speakers and we were all transported to new levels of hype.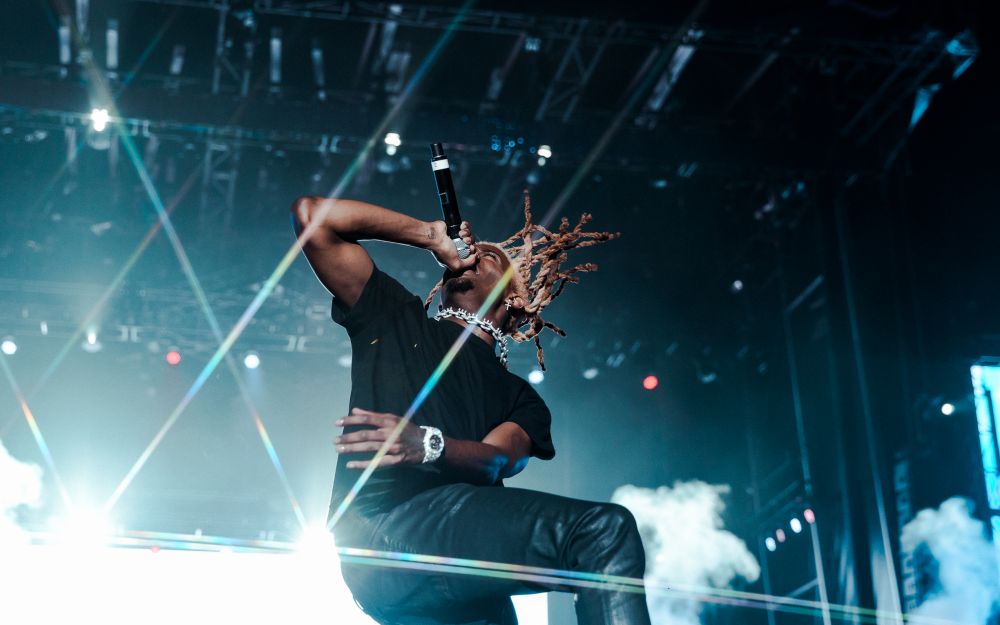 After Carti, Wu Tang Clan helped ease us back into some classic hip hop, giving New Yorkers the chance to see the legendary squad perform their biggest hits in their home city. It was truly a beautiful moment for NY, reminding us of how far hip hop has gone since those grimy days in the 80s and 90s, and Method Man put it best with his closing statement to today's hip hop stars: "Us old cats crawled so that y'all can walk".
After catching some essential Wu Knowledge, it was time to secure a spot back at the FashionNova stage to see the young God, Travis Scott, close the night with what was promising to be the biggest show yet. After more than a few minutes of intense anticipation, we were  transported to Astroworld as Travis opened with "Stargazing". Unfortunately, the hype proved to be maybe too much, as LaFlame injured his knee when he jumped off stage. But, being the dedicated artist he is, he made sure to give his fans the night they really wanted, continuing to kill hits on hits. Capping things off with "Goosebumps" and "Sicko Mode", the night finally came to a close, and we all realized "Damn, we still got another whole day of this".
Sunday brought out hitters like Pierre Bourne, Dave East, MGK, Lil Skies, Juice Wrld, and of course, so many more. I started off my day with some intense moshing with City Morgue, whose melding of rap-rock offered an incredibly violent and cathartic good time of shoving, elbowing and of course, hitting the ground, hard. After licking our wounds, we made our way to the Dryp stage to catch Denzel Curry, which of course meant even more hard moshing. Curry really established himself as a power player with his impressively fun show.
DaBaby came with, what else? Huge inflatable Babies of course!  
Fabolous gave the ladies in the crowd a lot of love. "If you get your own money, you drive your own car, you got a good job, get your hands up for yourself ladies" And went right into "She Wildin" Featuring Chris Brown. (I have footage of this)
Wale started with the classic "Lotus Flowerbomb" and kept the crowd vibin with some old and some new tracks.  His album was released the following Wednesday. A Boogie was all over the stage, coming as far into the crowd as possible without a stage dive!  
Action Bronson showed and received much love from his hometown of Queens. The borough of kings was live and in effect as Bronson delivered a lovely rendition of "Terry" and "Baby Blue". He brought out Big Body Bes, Mayhem Lauren and longtime superproducer/icon The Alchemist. Being the nice guy that he is, Ac gave back to the fans in the shape of cooler packs filled with ice cream.
DMX, possibly one of the more anticipated performers, sadly was not able to make it for the weekend.
Megan Thee Stallion came out looking amazing and delivered a performance that exuded the sex appeal she is known for.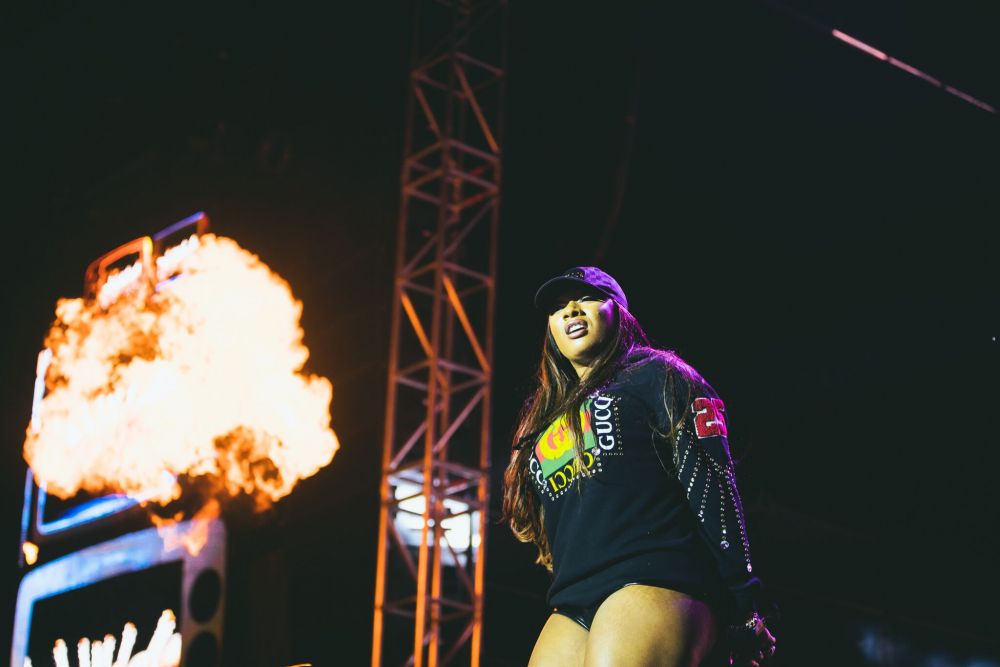 Young Thug reminded everyone who the king still was as he treated fans to "With Them", "With That" and "Wyclef Jean"
As Sunday night drew to a close, Lil Uzi Vert brought the heat to the Dryp stage. But NYC was more than ready to welcome A$AP Rocky back home after his recent troubles overseas. "Praise The Lord" took the crowd over, and boy was it good to be a New Yorker. It was even better once he introduced copart A$AP Ferg, who treated us to the classic "Work" and the newer heat "Plain Jane". But it wasn't over. 
Just when we thought it was all we could take, Swae Lee ran on stage and No Type blew us away. So, that had to be the end, right? Surprise Ferg, surprise Swae Lee, no more surprised, right? Wrong. Next thing we knew, 50 Cent was going back to back with Rocky, before delivering possibly the most NY rap song ever, "Get Money". Rocky made sure to pay tribute where it was due, taking things from deafening hits to absolute silence as he called for a moment to remember A$AP Yams, without whom none of this spectacle of NY excellence would've been possible. Things did not end on such a somber note though as Rocky went straight into Yamborghini, giving us one last chance to lose ourselves. And with that, the night was perfect, the weekend was complete, and we had been given far more than what we were promised. I can only imagine what's in store for New York next year. This might be the beginning of something really big, and what else could you expect from the birthplace of hip hop?