EVENT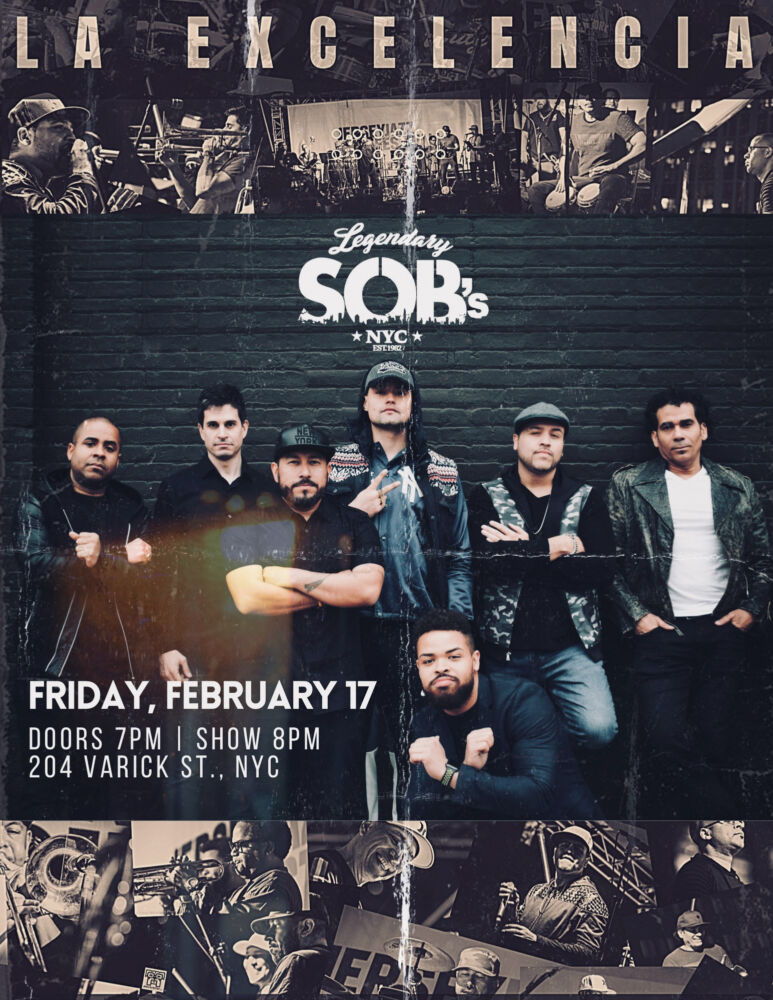 Feb 17, 2023 | Doors 7:00 pm ← PAST EVENT
La Excelencia Live @ The Legendary SOB's
Tickets: $20
Age 21+
Inspired by the salsa sounds of the 70's and the sociopolitical landscape of today, La Excelencia is an award-winning band from New York City that combines traditional salsa elements with a modern and unapologetic sound. Their music invigorates social mindedness amidst a powerful and danceable soundtrack.   
"It takes just a note or two to hear that La Excelencia is different. This is unprettified salsa dura, with the percussion cranked, lots of breaks, the voices loud, almost distorted. It's the sound of a tough working band, the sort that used to be everywhere in New York and now are rare to find" says Peter Watrous of the New York Times. 
Founded in 2005, La Excelencia honed their sound by performing at local venues around NYC and eventually caught the attention of the international salsa community with their 2006 debut album, Salsa Con Conciencia. "The goal was to write and record original songs that spoke to us personally. We didn't realize these songs would resonate with so many others around the world," recalls Julian Silva, composer, producer, founder and owner of La Excelencia. The success of their first album would result in the first of several international tours. The band would later release three more albums, Mi Tumbao Social (2009), Ecos Del Barrio (2012) and Machete (2020), with measurable success. La Excelencia's music has been featured on several independent films, television programs, and compilation CD's.
La Excelencia's in-your-face sound and energetic, live performances reach outside of the salsa norm, and have propelled the band to main stream audiences and venues. "I felt like I was at a rock show not a salsa performance," commented Anthony Guerrero, a longtime fan.
Under the leadership and direction of owner, Julian Silva, La Excelencia has enjoyed solid success, and continues to keep their sights on the future with a commitment to bringing voice to the next generation of salseros. 
Related Events