EVENT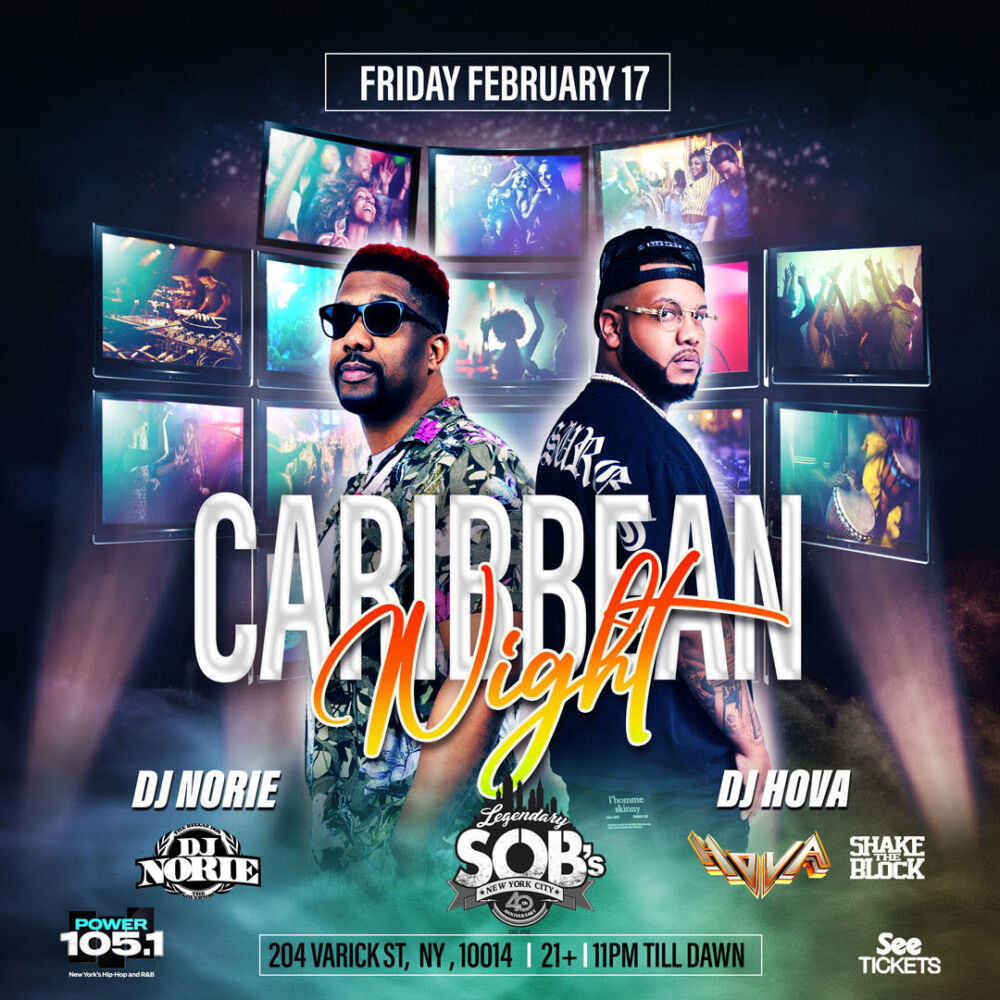 Feb 17, 2023 | Doors 11:00 pm ← PAST EVENT
Caribbean Night: DJ NORIE + DJ HOVA
Tickets: $0-$20
Age 21+
February 17th is all about Caribbean Night at the legendary S.O.B.'s in NYC! With sounds by DJ Norie and DJ Hova 🔊
Twelve years and counting, DJ Norie has been on your radios at Power 105.1 in New York City, bringing you inside interviews with your favorite artists like Sean Paul, Davido, Damien Marley, and many others. 
​Every single year he has surpassed his previous years of surprises, special concert events and philanthropy. 
​Ask anyone, and they will tell you, you get more than a DJ with Norie. He's a performer, an expert and a personality that one can never forget. 
Born in New York City Dyckman, Dj Hova (as he is artistically known). Influenced by his brother who is a musician/producer known by as "Jtraxx" from Famous Latin group "Aventura". DJ Hova began fully involved with music at age 15 he was already helping
one of uptown hottest Dj known as DJ Danny S at various nightclubs as his assistant. At
18 years old, Dj Hova saw an opportunity to find dj as a passion. While working with DJ
Danny s, Dj Hova learned the fundamentals of Dj and from there rest is history.
Dj Hova now has opened up and Dj party with many acts such as
Aventura,Sensato,Vena,Dnc,Zion,De La Ghetto,Nengo Flow,El Soprano, Max Agende, El Pekeno, Anointed S, Secreto El famoso Beiberon, and has Dj alongside great Djs like, Dj
Alex sentation,Dj Lobo,Dj Camilo,Dj Enuff,Dj Precise,Dj C-lo,Dj Danny S,Djfunkmasterflex,Dj Prostyle,Dj flipstar,DjAnuedy . Dj Hova has Dj out the city
including Boston, Ct, Maryland, Virginia Beach, Miami, Pa and the Dominican Republic
Besides Dj Hova great mixing skills and talent, what makes Dj Hova stand out is that
He's multicultural, his charisma and his energy!! He enjoys mixing different genres, but
his roots, as a mixer is Latin music. "I grew up listening to Hip-Hop because I was born
in NYC and at that time hip hop was really getting big everyone was listening to it.
Among his many accomplishments as a prominent DJ, Dj Hova is ready to take on the new generations of Dj. Already New York Cities top promoters are recognizing Dj Hova.
There is not one club or lounge in Dyckman/Washington heights area that Dj Hova
haven't Dj. Dj Hova has proved at many parties to be amongst nyc greats Dj .So make
sure you check out Dj Hova at your next club, lounge or private parties near you.