EVENT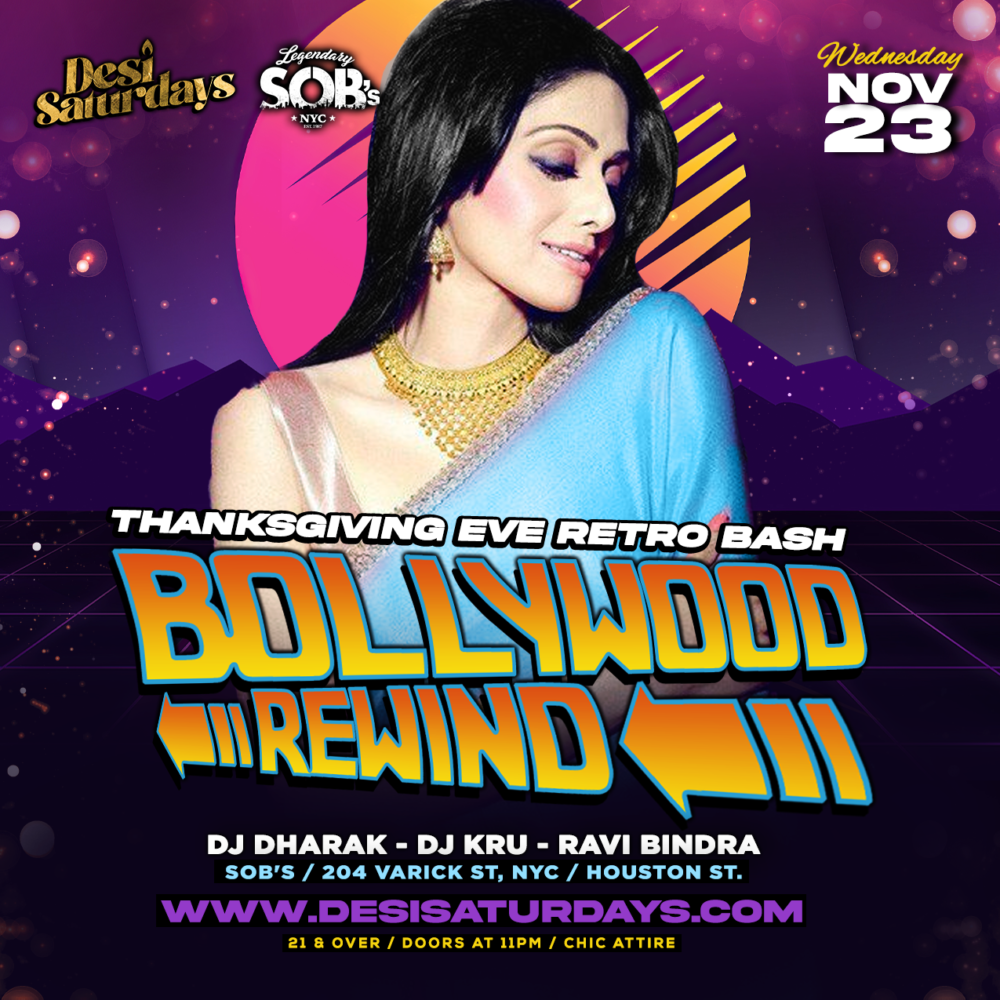 Nov 23, 2022 | Doors 10:00 pm ← PAST EVENT
Bollywood Rewind
Tickets: $20-45
Age 21+
For Groups & VIP Tables : 908-425-1603
Bollywood Rewind… What does it mean? Today is tomorrow's yesterday and retro means anything from the past… so yes, today is tomorrow's retro!
Bollywood Rewind brings you the best dance music from the 80's, 90's through 2k featuring live performance by India's # 1 DJ Dharak….music that transcends time. Our concept was born from a desire and need to bring back the Bombay era….and now it's more than just a dream, it's a reality! Experience it, embrace it, live it…..be part of it!
DESI SATURDAYS
Presents
BOLLYWOOD REWIND
Wed Nov 23rd 2022
At The World Famous Nightclub
SOB's
204 Varick Street.NYC
Featuring The Best :
DJ DHARAK – DJ KRU – RAVI BINDRA
DressCode: Proper Attire A Must
_🚫No Hoodies No T-Shirts No Shorts
_🚫No Construction Boots
_🚫No Hats Caps
_🚫No Bandanas
Desi Saturdays is one high society DesiParty. Wow factor everywhere. Beautiful people, beautiful venue, beautiful ambiance, and did we mention beautiful people? High energy, amazing music and a packed house are just some of the traits of what you would expect at this amazing desiparty.
This event is the talk of the town amongst young socialites. It's so exclusive it only takes place at SOB's, and don't even try to dress down, because it is almost impossible to get in, but more importantly you would feel so out of place. So don your best, and you may just be lucky enough to party at Legendary SOB's.
TERMS & CONDITIONS:
A PHYSICAL ID REQUIRED FOR ENTRY
This is a 21+ event – VALID PHYSICAL Government issued ID is mandatory for entry
No Photocopies/Phone Copies of IDs are accepted.
INTOXICATION OR ANTISOCIAL BEHAVIOR is UNACCEPTABLE
No Groups Of Males – Mixed Groups Only!
Strictly No refunds. Tickets are non-refundable and transferable!
We take pictures and capture videos of our events for marketing purposes. Please email us at DesiSaturdays@Gmail.Com or message us on Instagram/Facebook/TikTok at "desisaturdays" handle if you need to request removal of content from our page. Content removal will be at our discretion.
Behavior : Management reserves the right to remove any guest from the venue for any reason. Rowdy and unruly behavior will not be tolerated. You are ultimately responsible for all of the guests at your party. We operate a zero-tolerance policy on touching & harassment. 
Guests must not, under any circumstances, touch or talk to any of the staff, servers, performers or other patrons in an inappropriate manner. Venue Management retains absolute discretion to decide what is 'inappropriate'. 
If you or a group member acts in a manner that our management judges to threaten or disrupt the safety or enjoyment of others or acts inappropriately we may remove you from the premises and no refunds will be given.