'Jesus is King' Kanye West Album Review
November 5, 2019
Jesus is King started out as a pipe dream.
A slip of  the tongue from a 2009 Kanye interview, "People will say 'Aw, man he wasn't saying that Jesus thing when he made the song!' But, when I made the song, that's how I felt, but this is six years later. This is how I feel now.' 
If I had an album that debuted No. 1, a record-breaking ninth consecutive album, I think I'd start going to church more too. Jesus Is King was released on Oct. 25 via G.O.O.D. Music and Def Jam Recordings and debuted over 250,000 streams in the first thirty minutes alone.  
Jesus Is King arrived one day after a revealing interview with Beats 1's Zane Lowe where West opened up about his struggles with porn and sex addiction, and trying to mend his fractured relationship with Jay-Z; he also professed a commitment to his goals of being a good father, husband and overall good person. The same man heard on "Jesus Walks" has been troubled in the public eye for some time, and needed a savior bigger than himself.
Each of his albums is an anthological story that needs to be followed, so let's take that journey. 
Every Hour is the song that pulls on the heartstrings of the traditional gospel style to entice and cinch a new demographic of listers right off the start. Kanye disassociates himself from the first track; maybe to remain the integrity of the thematic scheme of the album. At first, I found it off-putting at first but quickly found the vibe.
Selah is a hit from the top. The track introduces Kanye's motive, questioning the relationships between violence and art, God and himself, and the man he was vs. the man he is. Selah is Kanye reflecting on the state of the world and his place in it. 
Follow God instantly brought me back to Otis ft. Jay Z & West. Old school hip hop, with a facade of comedy. One of the final lines of the lone verse is important. Kanye admits he is wrestling with God.
Closed on Sunday was a doozy- lyrically, this track was raked by professionals alike; however, I see it more as experimentation for Kanye. If this album is about analyzing your world, whether internally or externally, this is Kanye analyzing what he wants people to perceive his musical motif to be. Despite the controversial nature of this album, at least we can all agree, it sucks that Chick-Fil-A is closed on Sunday.
On God had lingering memories of 808's & HeartBreak. Techy synthesizers, and upbeat tempo, unfortunately, the only thing it left out was the raw emoting that made 808 the legendary album it was. This track, personally, was not my favorite; it juxtaposed the entire concept, a gluttonous desperation festering that didn't necessarily ring appropriate for a man of faith. Especially a man of faith who earlier critiqued the greed of those in power. 
Everything We Need was the pitstop we needed in this album. It brought the centric story back to the frontline, detailing the climax of his personal journey with God. From "Selah," through "On God," West detailed the storm inside. A warring mix of faith and aggression. He made it clear though, 'Everything We Need, the Lord will provide.'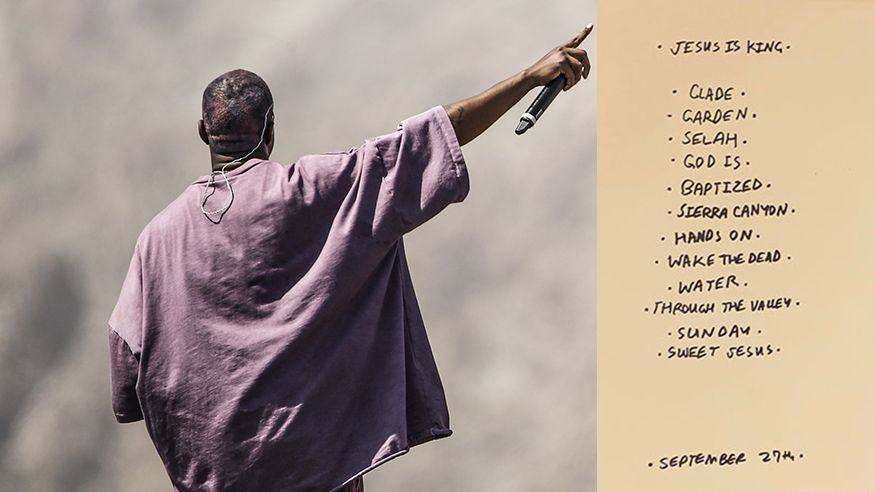 Water was literally a euphoric oasis- away from the hangovers, away from the bills piling up, away from that ex who can't take a hint. Water is used as a motif to symbolize rebirth and cleansing, and West made sure to feature his resurrection into a man of faith. With Ant Clemons singing masterfully behind the track, the ebb and flow of the song reminded me of a nursery rhyme a doting mother would sing to her sleeping child. 
God Is is a far more traditional gospel approach than the tracks prior to "Everything We Need." Whereas before Everything We Need, Kanye viewed his inner thoughts as a battle between good and evil.  Jesus, Kanye declares, won the fight. 
Hands On details West's with "the devil," a euphemism for the giving up of his old, sinful ways. Symbolically, one of the greater tracks on the album. The idea of "laying hands on" has been associated with praying for the sick; whether it's someone physically, mentally, or spiritually ill. Even so, he wants forgiveness, he wants redemption. Which is why he asks: somebody pray for me…Don't throw me up, lay your hands on me/Please, pray for me. It's a beautiful moment where instead of trying to battle everyone as he had early on, he nows seeks not only atonement but a community.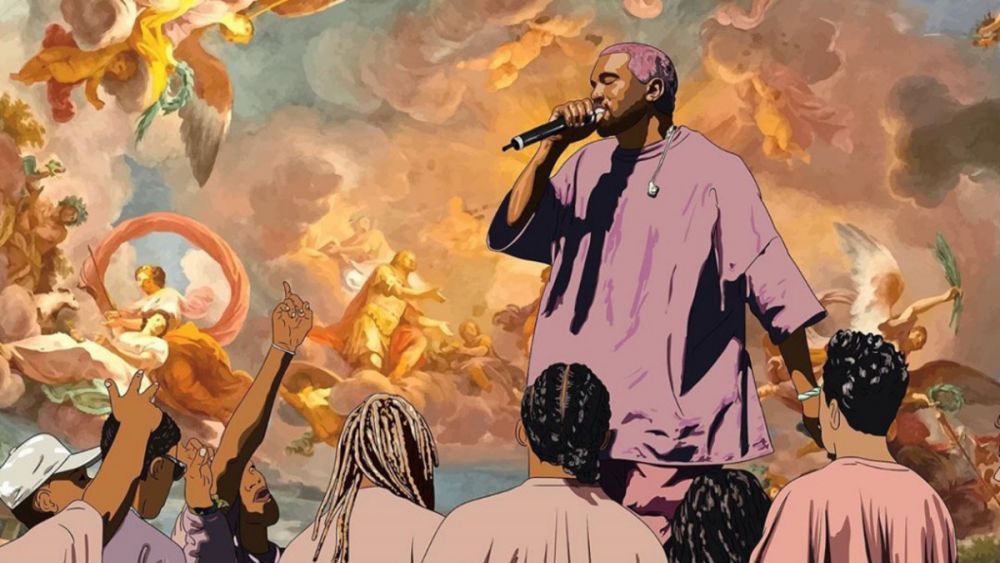 Use This Gospel was directed towards a community. Old school hip-hop had a homecoming when the legendary 2000's duo Clipse, feat. Pusha T and No Malice, performed side by side with West. While Kanye only sang the chorus of the song, there were still hints of the song eclipsing a modern Runaway. While Kenny G performs a short solo and the Clipse artists only rap for 8-bars each, the collaboration is one of the best ways to close the album out before the outro track "Jesus Is Lord".
Jesus is Lord is the final and shortest track on JESUS IS KING. It's a beautiful crescendo into what awaits us on the sequel album, JESUS IS BORN. Jesus is Lord was personally one of my favorite tracks of the album. Short and symphonic, the words he sang paled in comparison to the juxtaposed harmonies layered masterfully behind him. A perfect end to an alright album. 
Jesus is King blended hip-hop with Evangelical gospel traditions to create a vehicle for praising God. There are similarities to The Life of Pablo's sonic palette and some nods to the avante-garde minimalism of Yeezus.
My overall take is that this album hits you where it hurts. For my God Fearing brethren, these Gospel songs bring back notes of nostalgia from old church choir days. For people who slept in on Sundays, the album seems to miss the mark. Not having any of the recognizable Kanye hits or beats, there's nothing to keep them listening past a second go. However, none can deny the certain brilliance it takes to drop an album with this thematic overtone in times like these. 
The world will just have to wait and see what the future has for Kanye, but for now, we have Jesus Is King to spin in the lobby of every hip church in America.
By: Hayley Bono 
Tag: @hayle_b