Hot 97's Summer Jam 2021
August 26, 2021
Hot 97 Summer Jam 2021 Recap
SOB's would love to thank Hot 97 and Legion Media Group for our front row experience at Summer Jam 2021 in Met Life Stadium! Since the pandemic hit, we definitely have been missing the scene, so we were very grateful to be there.  This was definitely one of the best Summer Jams to date!
We saw one of our very own out on stage dancing in all chrome hearts and high heel boots. Cardi B came all iced and baby bump out with The Migos to perform "Type S**t", and we weren't mad at all, just a bit nervous. It rained most of the night and those heels were no joke!  Cardi is such a vibe.  The audience didn't move an inch, even with the torrential downpour.  Just a testament to what hard core Hip-Hop fans will endure for a concert of this caliber.
Link: CARDI B_Live Video  Credit @Tidal
Link: The Migos Live "Bad and Booujee" Credit @Tidal
We all know that CJ and Latin trap artist El Alfa have the song of the year with "La Mamá de la Mamá". Well, CJ and DJ Camilo brought out not only El Alfa, but Farruko on stage!  They blessed us with another worldwide hit "Pepas". They ended the set with "Si Es Trucho Es Trucho". Whether you're from the Latino community or not, these songs are guaranteed to have the crowd jumping. Typically, we don't see Latin stars at big concerts like Summer Jam and we were very excited to be able to witness them! Hopefully we'll see more Latino artists grace the Summer Jam stage in the future. Big win for the Latino community.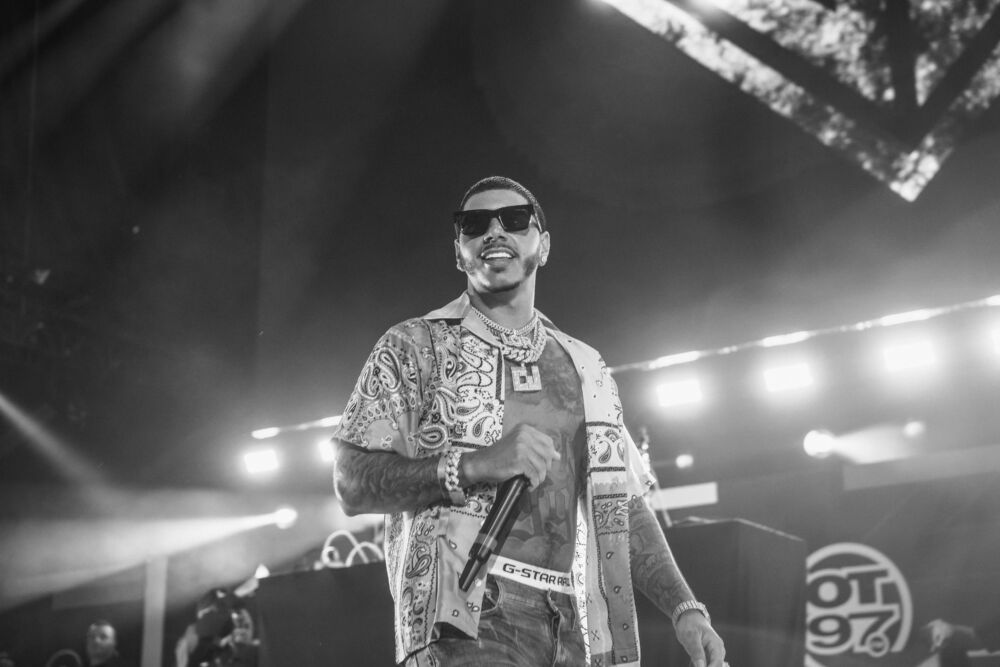 Link: CJ IG Pics
Link: CJ_Live Footage   Credit: @Tidal
SOB's Alumni Da Baby, Dream Doll, Polo G, Fivio Foreign + squad and the amazing Rotimi, who has sold out SOB's multiple times, also pulled up.  So many SOB's Alumni have done their thing during this time off & we're glad to see it! 
Link: Dream Doll Live Footage
To top that off, we got not only Wu Tang Clan, but The Lox who just crushed their VS against Dipset, Bobby Shmurda and Meek Mill!  DJ Megan Ryte blessed us with ASAP Ferg & Kranium, both SOB's Alumni. The most shocking unannounced performances of the night were French Montana, and last but not least H.E.R.!  We remember little Gabby Wilson's first performance at SOB's.  What a wonderful career she's built for herself.
Link: THE LOX_Performance – Summer Jam 2021 Credit @Tidal
Two other Queens pulled up with their hits.  Saweetie & Shensea both gave amazing performances and the crowd was here for it 100%.  We hope to have them on the SOB's stage soon! #BestFriend #Blessed
The influential DMX was given a tribute led by Swizz Beatz. Busta Rhymes, Lil' Kim, The Isley Brothers, Fat Joe, MOP and Remy Ma joined Swizz in the performance. The rapper known for many songs including, "Party Up", was definitely given an amazing tribute that Sunday for his ability to make the crowd go crazy.  Well deserved.  Another SOB's Alumni. RIP to DMX #Legendary. 
Link: BUSTA RHYMES Live Footage
Lastly, headliner A Boogie performed "Look Back At It", after propelling down from the ceiling!  He also brought out Pop Smoke's Mother, Audrey Jackson and Brother, Obasi Jackson, and honored them.  Obasi is an upcoming artist who SOB's has already featured on IG Live (link) with an up close and personal Q&A.  A Boogie was also honored by Ebro and TT Torrez with five platinum and gold plaques for various releases, right on stage!
Link: A Boogie 4_Live Video Credit @Tidal
We're not sure how TT Torrez and her crew at Hot 97 will be able to top this experience, but we're surely itching with anticipation to bear witness!  Special thanks to Chanel from Legion.  Til 2022!