AFROPUNK Saturday
August 29, 2019
By: Racquel Deeds
This past weekend Commodore Barry Park in Brooklyn, NY was transformed into four major stages powered by AFROPUNK. Headliners included Jill Scott, Goldlink, FKW Twigs and more that blew the expectation of the festival away. Fashion was in full bloom with vibrant statements breaking all norms. 
Walking into the late performance of Rico Nasty, my presence was stopped by the line wrapping around the block but was reminded to be thankful to hear her live. When walking in, goers are consumed with fashion, food trucks and respectable labels for navigation. There were four-color stages that gave goers plenty of room for a nice blanket and even space to move to the music.
Heading to the Gold Stage first, I caught a quick glimpse of upcoming artist Leikeli 47. This wasn't her first time rocking the AFROPUNK stage and it surely showed. Leikeli 47 was the perfect way to start my festivities. Wearing the basics and covering her face with a black bandana mask, she had the crowd singing along to her hit " Money." Shortly after she brings out Rapsody for their feature song together, " Oprah."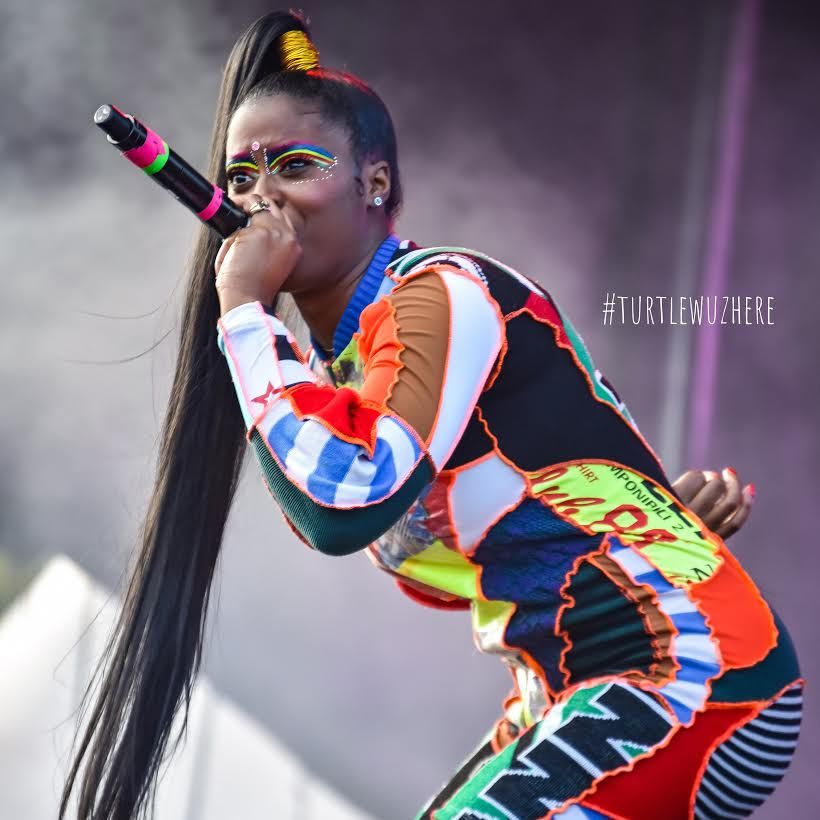 Slowly moving to the Red Stage, Tierra Whack started the crowd off with "Only Child." and "Clones." Dressed in her neon jumpsuit with whipping ponytail, another surprise was in store.  Whack brings out Alicia keys who sings melodies from Whacks last album " Fuck Off" and " Black Nails." While on stage with Whack, Alicia casually plays "If I Ain't Got You" for Tierra's Birthday while the crowd sings along in unison. One of the best ways to start the festival!
Right after DJ Doowap, IAMDDB blessed the stage taking her time to come to the front. Wearing a multi-colored tassel dress, she gave the audience exactly what they were looking for. Her backdrops gave a clear vision of who she is and what she stands for; "Stop killing Our Men" and "No Sir, I don't want to F**K you".  Being a young influential artist, IAMDDB certainly gained me as a new fan as the crowded made me feel her music through the speakers. 
Waiting until NAO perform, I decided to travel around the rest of the park grounds to get a more familiar feel of what else AFROPUNK had to offer. What particularly caught my eye was a hair shop in the middle of the park. Giving customers quality braids, afro-centric styles and tips for their natural beauty. The food trucks were tucked away in the corner near the entrance with an aroma that caught your eye. 
Heading back to the Gold Stage, NAO started her performance with a dark eerie feel that sent chills as you felt the bass to "If You Ever" . When the lights came on, she was wearing a sparkling purple – metallic jump suit that complimented her figure and overall personality. To me, she looked like a spitting updated version of Chakka Khan. 
There were so many amazing performances.  Can't wait for next year!