EVENT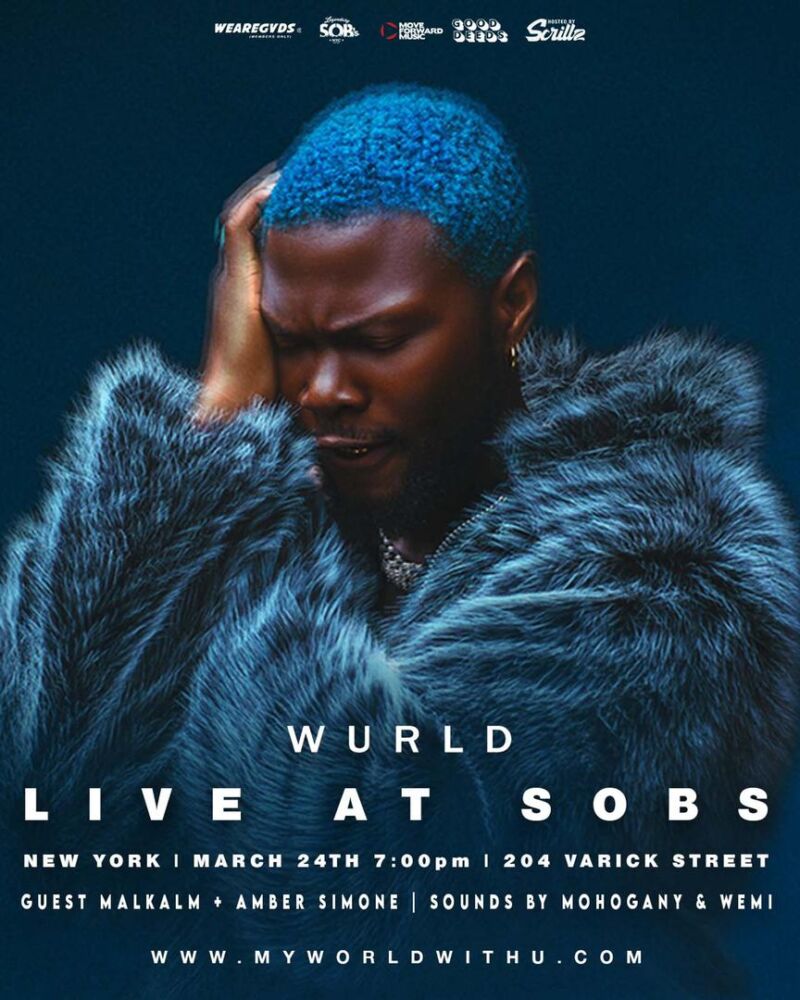 Mar 24, 2022 | Doors 7:00 pm ← PAST EVENT
WurlD
Tickets: $27
Age 18+
Amber Simone & MALKULM
WurlD, born 'Sadiq Onifade' is a singer-songwriter of Nigerian heritage. He began his career writing songs for artists such as BOB, Trinidad James, Akon, Mario, and many more. In 2012, WurlD released his first single 'Beyond Our Dreams', the lead single off his debut EP, 'Evolution' which was later released in 2013. In 2016, WurlD collaborated with Shizzi &Walshy Fire of Major Lazer to deliver the Afro pop hit 'Show You Off'. While support & coverage on popular platforms such as; Vice, OkayAfrica, E! Online & MTVBase to mention a few quickly brought WurlD to mainstream attention, his unique style & electric sound has garnered him a dedicated & loyal fan base.
2019 was a busy year for the afrosoul/pop singer. In March, he released "Love Is Contagious" EP, which features singles like "Show You Off", "Paranoid" & "Contagious". He co-wrote the hit song 'Blow My Mind' by Davido featuring Chris Brown, and also released the critically acclaimed collaborative project 'ILGWT' (I Love Girls With Trobul) with award-winning Nigerian producer Sarz. WurlD's versatility as an artist is evident in his songs, personality & brand. WurlD's creation of new age sounds fused with substance and emotional depth will intoxicate audiophiles & casual listeners alike. "It's easy to follow trends and play safe in a world where being original is not celebrated as much anymore. I just want to connect with people while staying true to my art and my brand" – WurlD Coming off the back of ILGWT, WurlD released a 7 track EP titled 'Afrosoul' Q2 2020. He released 2 singles in the summer of 2021 "SPUNK & STAMINA", followed by his debut album scheduled for March 2022.
WurlD juxtaposes crafty songwriting with his sultry vocals while infusing soul sounds with African pop. Leaving nothing to chance, the singer continues to stake his claim as Africa's newest breakout Star.
https://www.myworldwithu.com