EVENT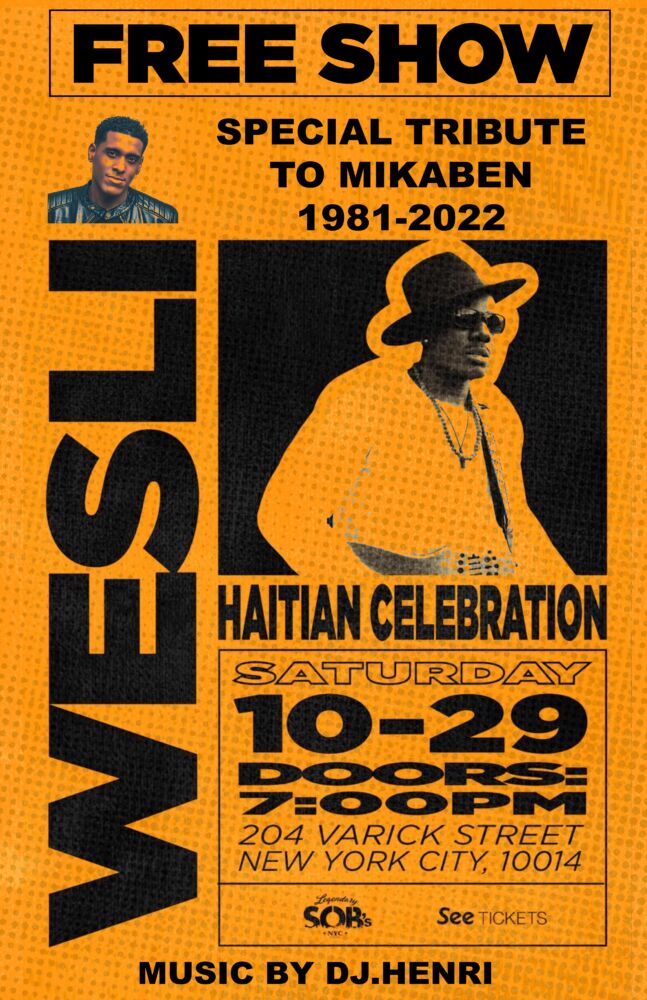 Oct 29, 2022 | Doors 7:00 pm ← PAST EVENT
FREE SHOW: Wesli
Tickets: FREE
Age 18+
Guest: DJ Henri
Haitian-Canadian musician Wesli plays LIVE at the Legendary S.O.B.'s with guest DJ Henri on October 29th
Wesli is the stage name of Wesley Louissaint, a Haitian-Canadian musician. In 2019, Wesli received a Canadian Juno Award for World Music Album of the Year. One of eight children raised in a home where music was a big part of daily life, it became a second nature to him, a way to escape the misery that surrounded him. Wesli built his first guitar out of an old NGO-provided oil can and nylon shoe lace when he was just eight years old. 
Be it in an acoustic formation (guitar, voice and percussion) or with his bigger band, Wesli consistently delivers a rich, festive and uniquely engaging sound. He conquers the heart of his audience through complex musical arrangements and universal messages of hope, truth and peace. Bringing together a wide range of Montreal talents, Wesli's music unites Haitian voodoo and rara with roots, reggae, Afrobeat, electronic music and hip-hop flavors.
In 2021, Wesli signed with the indie label Cumbancha, who released their first single and video together, the upbeat reggae song "Le Soleil Descend", on June 11, 2021. That was followed by the release of the single and video  "Bontan Ilayéyé," a fusion of Haitian vodun chants and electronic music featuring African DJ and producer AfrotroniX. Both songs are part of an ambitious two-album project called Tradisyon, which explores the past and the future of Haitian music. 
The first volume of this epic work, Tradisyon, which focuses on Haitian roots, acoustic and traditional styles, will be released on CD on October 14, 2022. It will be followed in the coming months by Tradisyon Vol. 2, a stunning exploration of new directions in Haitian music, blending traditional genres with electronic music, Afrobeat, soul, funk, hip-hop and more. While each volume of Tradisyon demonstrates Wesli's incredible talents as a composer, singer, multi-instrumentalist and producer, taken together Tradisyon and Tradisyon Vol. 2 are an epic body of work.
Some time ago, dj.henri found a flyer on the sidewalk from an NYC Haitian music promoter
inviting guest DJs, and since his caribbeanonlineradio.com station had been thriving, he thought
he'd give it a try. It was an exciting night of Zouk and Konpa in this tiny club on the Bowery, long
since closed. Since that night, dj.henri has been booked at much bigger places like the Apollo
Theater, B.B. King's, Symphony Space, and elsewhere. dj.henri opened for Wesli here at SOB's
not long ago, and for other French Caribbean artists like Christiane Obydol, Admiral T., and Kai,
not to mention African legends like Salif Keita, Femi Kuti, Vieux Farka Toure, and many others.
His popular Radio Africa Online Mixes podcast (https://is.gd/grb4bc) is featured in Apple
Podcasts, Amazon Music and elsewhere. Its four French Caribbean episodes, including one
featuring Haitian legend Coupe Cloue, enjoyed 200 gigabytes of traffic last month alone.