EVENT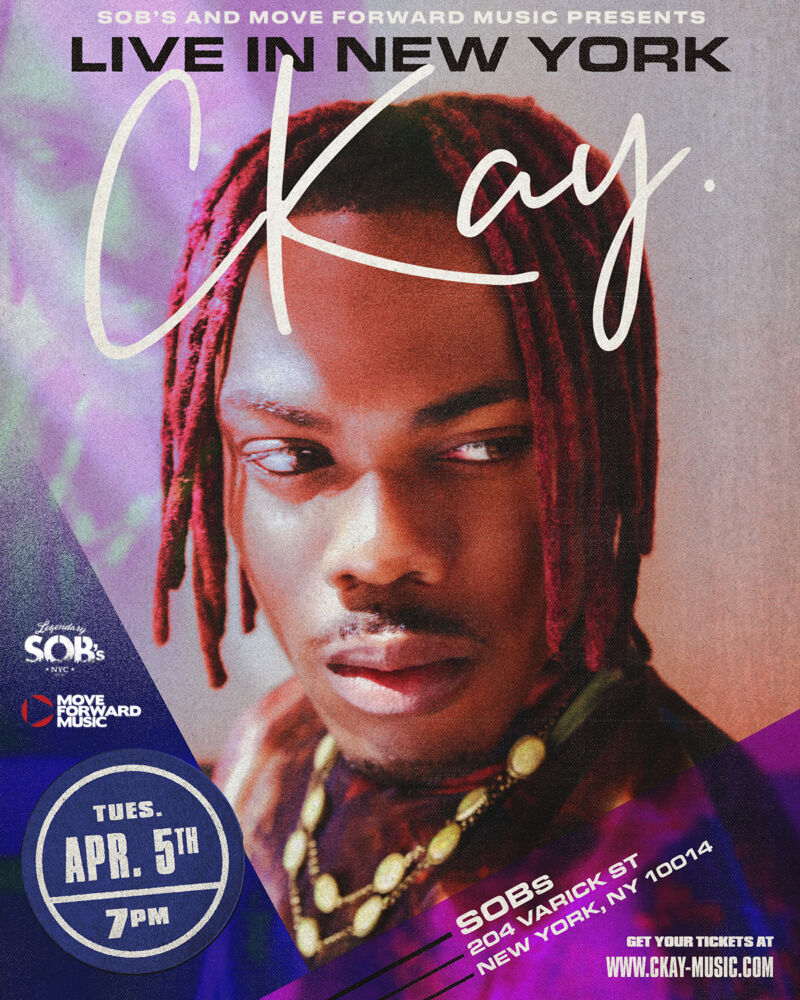 Apr 05, 2022 | Doors 7:00 pm ← PAST EVENT
Move Forward Music Presents: CKay Showcase
Tickets: $22
Age 21+
"In early September, Nigerian singer-songwriter CKay received a text message with a link to TikTok. Some of the app's users had started recording a dance routine set to his song, "Love, Nwantiti," which is about toxic relationships. CKay didn't think much of it. "The song had already been big a year before, so why would it blow up again?" he said via email.
But within days of getting the text, his two-year-old song was being used in millions of videos. The dance had spawned a challenge, inspiring one TikTok user after another to try to do a better job with the same moves. Almost overnight, its growing popularity on TikTok catapulted "Love, Nwantiti," into the biggest hit of CKay's career.
For two weeks in October, "Love, Nwantiti" ranked as the most-watched music video in the world on YouTube. It was also one of the most popular tracks on Instagram, TikTok, Spotify and just about every place people listen to music." — Bloomberg
With a flair for sonic experimentation, CKay fuses the ebullient sound of Afrobeats with touches of emo, pop, and psychedelic ambience to create a visionary creative approach of his own. Born Chukwuka Ekweani, the 26-year-old artist made his debut with 2019's CKay The First EP, highlighted by the original release of "Love Nwantiti". The track soon found a world-spanning audience, including a featured placement on Diddy's hugely successful 2020 virtual dance-a-thon fundraiser on Instagram Live. A popular series of worldwide remixes followed, as did a milestone feature and co-production credit on Nigerian superstar Davido's hit "La La (Ft. CKay.)" This was followed by a key track on breakout Ghanaian-American Afrobeats star Amaarae's acclaimed 2020 LP, The Angel You Don't Know.
February 2021 saw CKay's return with his highly anticipated sophomore EP, Boyfriend featuring guest appearances from Amaarae, Bianca Costa, Oxlade & KiDi. The lead single, "Felony", reached #1 on an array of leading African charts and playlists and is projected for platinum certification in Nigeria.
CKay is currently in the studio working on his first full-length studio album, pushing his already omnivorous sound and style to even greater heights of creativity. CKay is determined to reach his fast-growing global audience eager for his next exciting release.