EVENT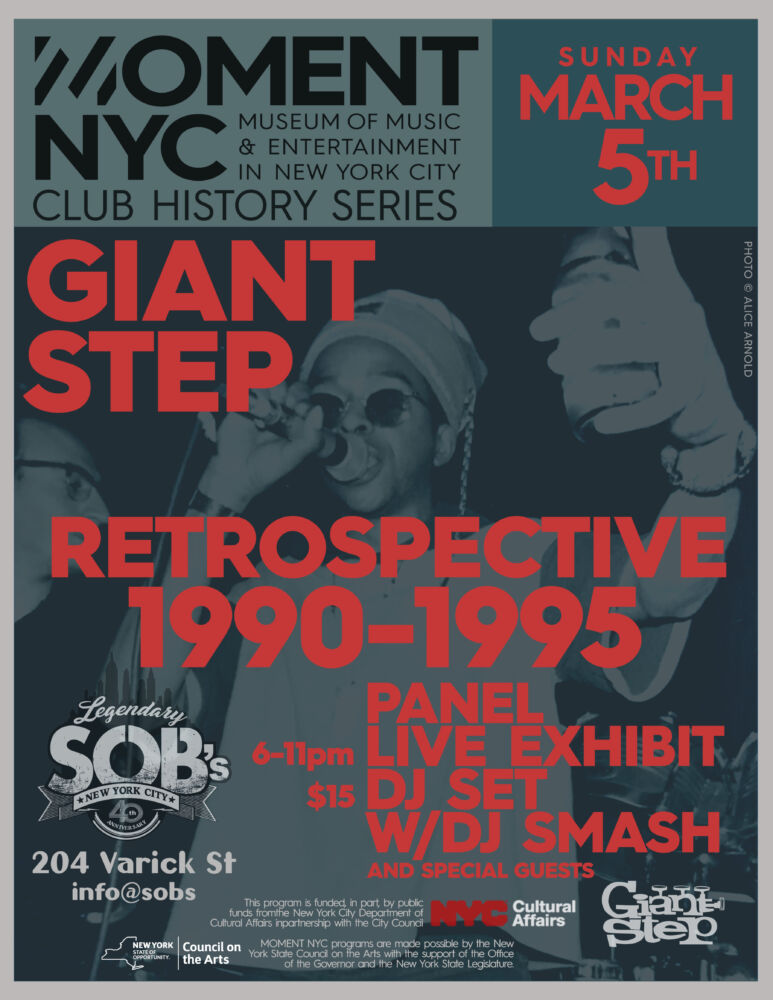 Mar 05, 2023 | Doors 6:00 pm ← PAST EVENT
Moment NYC: Giant Step-Retrospective 1990-1995
Tickets: $8-$15
Age 21+ (minors permitted w/ chaperone)
MOMENT NYC: GIANT STEP – RETROSPECTIVE 1990-1995
MOMENT NYC invites you to a retrospective on the groundbreaking underground Giant Step party of the 1990s. This roving downtown party attracted generations of artists, jazzers, MCs, dancers, celebrities, and fashionistas – an eclectic mix of all kinds and personalities, creatively intermingling. Unique and of its time but also part of a long continuing tradition of underground music and dance club culture in NYC nightlife. This was the club where artists like Jamiroquai, Massive Attack, Gilles Peterson, Guru's Jazzamatazz, Daft Punk and Digable Planets first performed. It was also a jumping off point for local artists like Groove Collective, Dana Bryant and Repercussions. Giant Step inspired other like minded parties from Los Angeles to Toronto and beyond.
The event will feature the photography of Alice Arnold with archival audio; a panel discussion w/ Maurice Bernstein, Erica Lee, DJ Smash, and David Hershkovits; and after-party DJ set by DJ Smash w/ guest performers.
6:30pm Discussing '90s NYC Giant Step parties in the context of NYC nightlife history
David Hershkovits (founder of Paper Magazine), facilitates a discussion with Maurice Bernstein (Giant Step co-founder and CEO), Erica Lee (former Director of Events at Giant Step), and DJ Smash (original Giant Step DJ)
8pm Live exhibit of photos by Alice Arnold, Giant Step archival audio mixes, and context
8:30-11:00 After-Party DJ set by DJ Smash w/live guest performers
Exhibit photographs by Alice Arnold
Alice Arnold is a documentary media maker and educator. She creates, edits, designs and photographs projects that explore the urban environment and visual culture — from street art to advertising and from sidewalks to electric signs. Her films are in the collections of university libraries throughout the United States and have screened at MoMA and other festivals. She is a NYFA Photography Fellow, a Fulbright Fellow in film and an Adjunct Professor at the City University of New York. She recently published "Goldie Timeless" (Cafe Royal Books), a small photo book about a drum'n'bass event in 1995.
Panelist
David Hershkovits has published articles on pop culture and politics in numerous newspapers and magazines, including GQ, Vanity Fair, Max, High Times, the NY Post, Daily News and Newsday. He authored a monthly column, hundreds of articles, profiles and numerous cover stories for Paper Magazine. Vanity Fair credits co-founders David Hershkovits and Kim Hastreiter with having "changed the face of pop culture magazines" with Paper Magazine.
Born in Israel and raised in Brooklyn, his early work in journalism included the Soho Weekly News where he held editorial positions and was Assistant Managing Editor, and he was the only journalist on the New York Rap Tour which brought hip hop to Europe in the early 80s. In 1984 he co-founded Paper Magazine, and in 1995 launched Papermag.com. David co-edited the book From Abfab to Zen: Paper's Guide to Pop Culture (1994) and 20 Years of Style: The World According to Paper (2004). In 2015, Paper "Broke the Internet" with the Kim Kardashian cover shoot by Jean-Paul Goude. As the host of the Light Culture podcast, he has interviewed more than 120 artists, photographers, musicians and cannabis culture personalities. 
David was a charter member of the Style Council – the VH-1 Fashion Awards nominating committee; and voted on the Council of Fashion Designer of America Awards. He also ran for Mayor against Rudolf Giuliani and played a principle role in the founding of the New York Nightlife Association. David is currently CEO of the Cultural Content Consultancy, LLC.
Panelist
Maurice Bernstein
Maurice is the co-founder and CEO of Giant Step.  Hailing from Manchester UK, he landed in New York in the late 1980s and immediately immersed himself in club culture and the music of the city. Since Giant Step's start in 1990 as underground concert and club promoters; he built it into a management company, record label releasing albums like Nuyorican Soul, to a music marketing agency working with artists like Amy Winehouse, Daft Punk and Janelle Monae. Today Giant Step is an award winning marketing agency working with brands like; Marriott, Under Armour, Samsung and Related properties to name a few across their music verticals.  Maurice is an Adjunct Professor at Tisch School of The Arts at NYU, vinyl junkie and was the co music supervisor on NY Times documentary series The 1619 Project on Hulu.
Panelist
Erica Lee is an accomplished producer with over 30 years of experience in corporate and non-profit experiential marketing.  She has produced a wide variety of events including product launches, concerts, consumer-facing activations, and public art installations. 
Her event career began in the music industry at Giant Step in 1990 through 2007, producing and promoting concerts for various artists such as Jamiroquai, Bebel Gilberto, Massive Attack, The Roots, Air, and Macy Gray.  After years in the concert realm, she began producing events across the country for brands and companies including Levi's, Nike, Samsung, Target, Conde Nast, Delta, New York Magazine, and the Robin Hood Foundation.
She is currently the Head of Production at Kenzo Digital Immersive, an immersive storytelling studio that juxtaposes elements of art, film, theater, and architecture to produce groundbreaking work on a global scale.
Panelist and DJ set
DJ SMASH
DJ Smash's first NYC DJ residencies were at legendary clubs Save The Robots ('88-'93), Nell's ('92-'93) and Giant Step ('90-'94) with guest DJ slots at many notorious 1990's New York clubs in their heyday including Limelight, Palladium, Pyramid, MK, Wunderbar, Milkyway, and Payday. In 1994, he appeared on the Red Hot Organization's album, Stolen Moments: Red Hot + Cool, remixing a track featuring Groove Collective and Bernie Worrell. The album, which raised awareness within the African American community of the continuing AIDS epidemic, was dubbed "Album of the Year" by Time Magazine. He's spun at clubs around the world and shared the bill and decks with hundreds of DJs including Gilles Peterson, Norman Jay, Danny Krivit, Nicodemus, Dj Romain, Jon Cutler, Miguel Migs, Julius Papp and many others.
Raised in Brooklyn and Manhattan, DJ Smash (Smash Hunter) learned the art of djing watching masterful DJs such as Grandmaster Flowers, Tanqueray, Frankie D., Doc Brown, Mark Kamins, and Justin Strauss perform in parks, block parties, skating rinks, clubs and warehouse parties, masterfully working the crowds and sound system.
Smash released his first record, as Transphonic, on Nu Groove Records an early House music label in New York in 1988. As a producer/artist Smash released over 30 of his own titles under various production aliases such as Jazz Not Jazz Massive, Yardboy, 2Much, JB, Cubian and Transphonix. He co-founded New York indie dance label Eightball Records in 1990, and in 1992 co-founded New Breed Records with Asia Love. He produced and remixed for an array of labels along the way for labels such as Instinct/Acid Jazz Records, and the iconic jazz label, Blue Note Records, for their Phonography Series, Lou Donaldson and Grant Green Blue Break Beats series, for which he also composed liner notes.
His digital imprints Funkskool Digital, and Jazzy Grooves release eclectic productions as well as re-issue tracks from his diverse and vast archives.