EVENT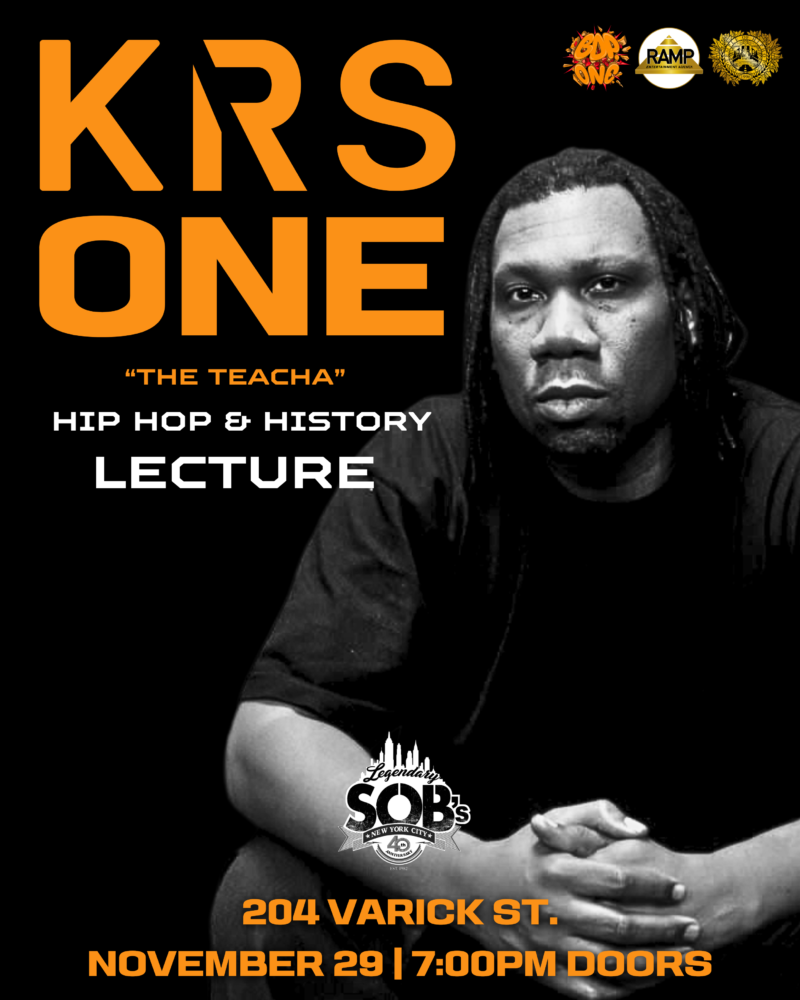 Nov 29, 2023 | Doors 7:00 pm ← PAST EVENT
KRS-One Hip Hop & History Lecture
Tickets: $25
Age 18+
KRS-One returns to S.O.B.'s for two incredible nights of history & music. 
Night One: On November 29th, join KRS-One at S.O.B.'s for a lecture on the history of hip hop from the teacha himself! 
Night Two: On November 30th, join KRS-One at S.O.B.'s for a live show with special guests & friends also hitting the stage to perform. 
Bundle your tickets for both nights and save 15%!
KRS, an acronym for ""Knowledge Reigning Supreme", has been called the "conscience of Hip Hop" (Rolling Stone), "the greatest live emcee ever" (The Source), the "spokesperson for Hip Hop" (Wall Street Journal), "master teacher" (Zulu Nation) and the "son of Hip Hop" (Kool DJ Herc). With 20 published albums to his credit and his numerous appearances with other artists, KRS-One is believed to have written the most rhymes in Hip Hop's history. In the 1990s as "hip-hop" grew more and more commercialized and corporate, it was KRS-One that openly rejected such cultural exploitation and materialism grounding Hip Hop in its original principles of peace, love, unity and safely having fun. Teaching everything from self-creation to stopping violence; from vegetarianism to transcendental meditation, from the establishment of Hip Hop Appreciation Week (every third week in May), to establishing Hip Hop as an international culture at the United Nations (2001), KRS-One has single-handedly held the history and original arts of Hip Hop together now for over two decades. 
When he is not touring or lecturing, on his so-called "down-time", KRS-One continues to share his unique knowledge of Hip Hop to younger audiences eager to hear the 'teacha' speak. Operating as a kind of "pop-up" school, KRS-One's Temple of Hip Hop has appeared in various cities in USA also in the UK and Europe offering the more serious student of Hip Hop an effective way to live and understand the culture of Hip Hop more deeply.
KRS-One lecturing at S.O.B.'s back in 2001:
Related Events