EVENT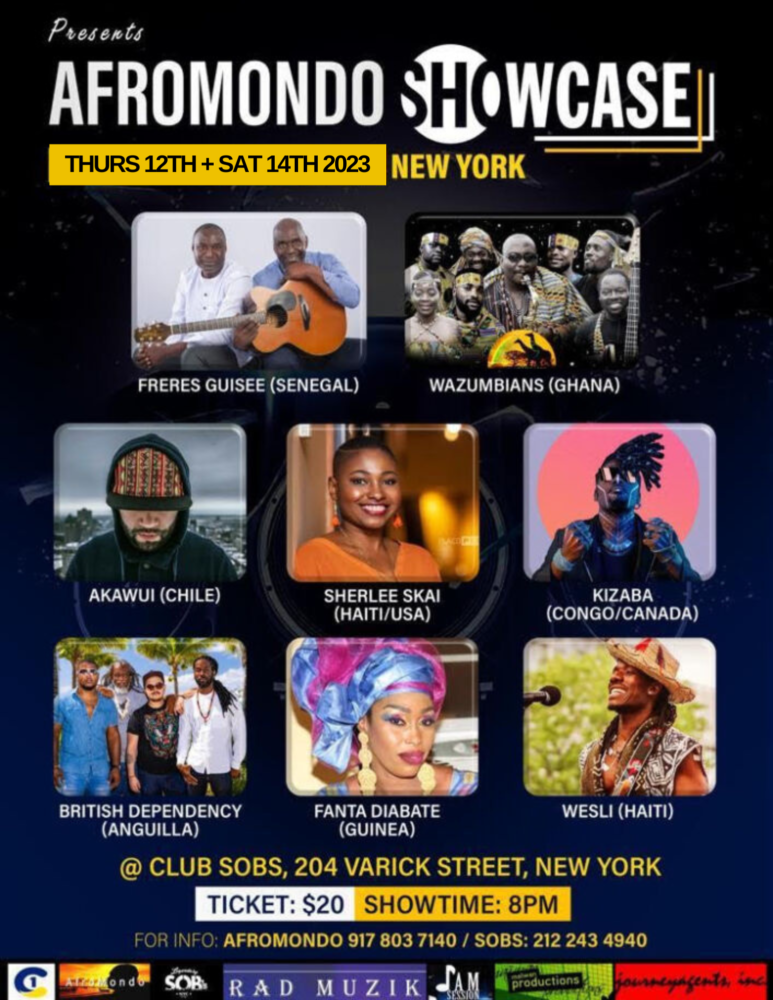 Jan 12, 2023 | Doors 7:00 pm ← PAST EVENT
Afromondo Showcase
Tickets: $20 ADV
Age 21+
Afromondo x S.O.B.'s present the Afromondo Showcase, featuring Freres Guisse, Sherlee Skai, Wazumbians, Akawui, KIZABA, and Wesli in NYC on January 12th!
World Music singer-songwriter Sherlee Skai brings a unique sound shaped by multicultural influences from Haitian folklore to American jazz and soul. She sings from the heart combining music, activism, and history.
Sherlee graced stages like Harlem Week, and Lincoln Center with her music always celebrating her origin and culture, and sharing her vision as an immigrant, a woman standing in front of life, hence the title of her
1st album "TOUTOUNI" (Bare Naked).
Currently working on her 2nd album which will be released this year, Sherlee Skai is using her music and voice as tools to bring awareness about social justice issues, notably immigration policies in the US. Volunteering in Del Rio Sherlee saw first hand the treatment
black migrants receive at the US/Mexico border, and makes it her duty to advocate for more humane and equitable treatment for those in need
of protection.
Wazumbians is an Afrofusion music group from Ghana whose sounds re-echoes the famous Ghanaian group Osibisa, which is famous for their pioneering role in worldmusic around the globe. With musical directions from long experienced producer Wazumbi, the band's music is a mixture of catchy tunes served with ornamented rythmic grooves. The band's music is influenced by Salif Keita and the late artists Bob Marley, Fela Kuti and Lucky Dube. With such a wide array of influence, the group carries a coherent sound all carefully mixed together yet carelessly shared with their audience and listeners with great fun for equal measure. Much loved in their home city of Accra, the Wazumbians have helped bring back a vibrant live music scene in the bustling city.
Akawui is a singer-songwriter from Quebec of Chilean / Mapuche indigenous origin. For urban alternative music lovers of the world, AKAWUI merges many tribal musical genres, including; cumbia, First Nations chants and Andean music along with the contemporary sounds of EDM and Hip-Hop. He blends tribal and modern together. His sound is rich in percussion, carries an electronic punch while being anchored in folkloric tradition. 
His lyrics convey an awakened and uplifting message, at times with an energetic presence and at other times with a round and a romantic sound. His primary goal with his art is to break down psychological barriers and prove that it is through union and mixing that one grows and becomes stronger as an individual and as a society.
KIZABA  Singer-Songwriter and multi-instrumentalist, Ambassador & Pioneer of Afro-Congolese Electro music. He offers a musically rich Congo. A Congo reminiscent of a futuristic Afro journey "Fumu na betu" for which he creates vocals inspired by his ancestors and mixes sounds of Congolese-Soukous, Afrobeat and Pop rock.bBy mixing electronic music and traditional sounds from the Congo, he created an Afro-Futurist world. He uses visuals of 3D masks inspired by traditional masks from the Congo imagined in the future. With its fascinating and electrifying Afro-electro Congolese music, his lyrics in French, Lingala and Kikongo with some vocal melodies in English, KIZABA offers a dancing and unifying show for the general public.  KIZABA offers a unifying show that will move the crowd!
Wesli's musical journey has gone from stringing up an oil can with nylon fishing string to winning a Juno for World Music Album of the Year. Born Wesley Louissaint in Port-au-Prince, Haiti, he has grown into his role as a prolific songwriter, guitarist, and producer. Uniting a large cross-section of Montreal talent, his music links Haitian vaudou and rara with soul, Afrobeat and hip-hop – guest spots on his albums include the likes of Nomadic Massive, Boogat and Radio Radio.Since being crowned the Revelation Radio-Canada for 2009-2010, Wesli has gone onto win the Babel Med Music Prize (2010), SOCAN's Hagood Hardy Award (2016), and a prize from l'Académie Charles Cros (2019) in addition to the Juno for Rapadou Kréyol (2019). His touring calendar has taken him across North America, Haiti, Colombia, Brazil and Europe, with participation in WOMEX, Mundial Montreal, and the Atlantic Music Expo in Cape Verde.Wesli's unstoppable creativity led to two album releases in 2015: the star-studded Immigrand alongside the more traditional Ayiti Étoile Nouvelle. Rapadou Kréyol has been reissued internationally on Cumbancha Records, and will be followed by a new, electronically-infused album, Tradisyon.