EVENT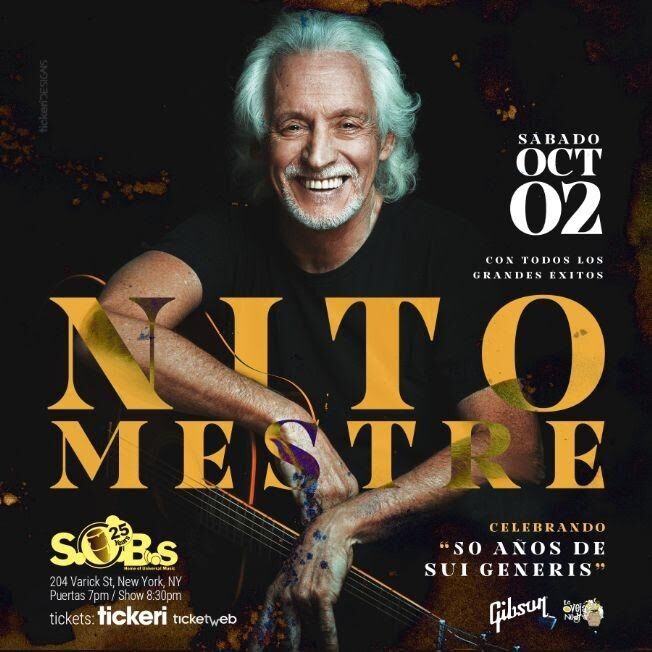 Oct 02, 2021 | Doors 7:00 pm ← PAST EVENT
Nito Mestre
Tickets: $28-45
Age 21+
SOB's New York, NY Doors: 7:00PM | Show: 8:30PM
Nito Mestre en New York!!! 
Unica Presentación // Capacidad Limitada!!Ven e celebremos juntos 50 Años de Sui Generis  Desde 1972 hasta la actualidad Nito a Grabado mas de 33 Álbumes y ha participado en 4 Películas, sin lugar a dudas, lo convierte en uno de los próceres de rock nacional Argentino muy querido en todo Sur America. Prepárense para compartir con Nito e Amigos, anécdotas de sus canciones y repasar tanto los Clásicos de Sui Generis, como su Propios Éxitos.
COVID-19 POLICY:
Mayor de Blasio has announced that beginning August 16, proof of COVID-19 vaccination will be required for indoor entertainment in NYC.
Per New York City mandate, from August 16th onward, all shows at SOB's will require proof of vaccination; a negative PCR or antigen test will no longer gain admittance.
This applies to all patrons, as well as every band, crew and staff member. Acceptable forms for proof of vaccination are a CDC issued card (or photo), or the NYS Excelsior pass.
Per current CDC guidance, it is also recommended that all people wear masks in indoor settings to help prevent the spread of the Delta variants and protect others. We kindly ask that all individuals wear a mask while inside SOB's (except those who are medically exempt).
We thank you for your continued understanding as we adjust to the realities facing our community.
For questions or more information, please contact us at info@sobs.com.
TERMS & CONDITIONS: By entering SOB's, you voluntarily assume all risks related to exposure to COVID-19 and relinquish SOB's from any and all liability. Please note these guidelines are subject to change at any time, without notice.