EVENT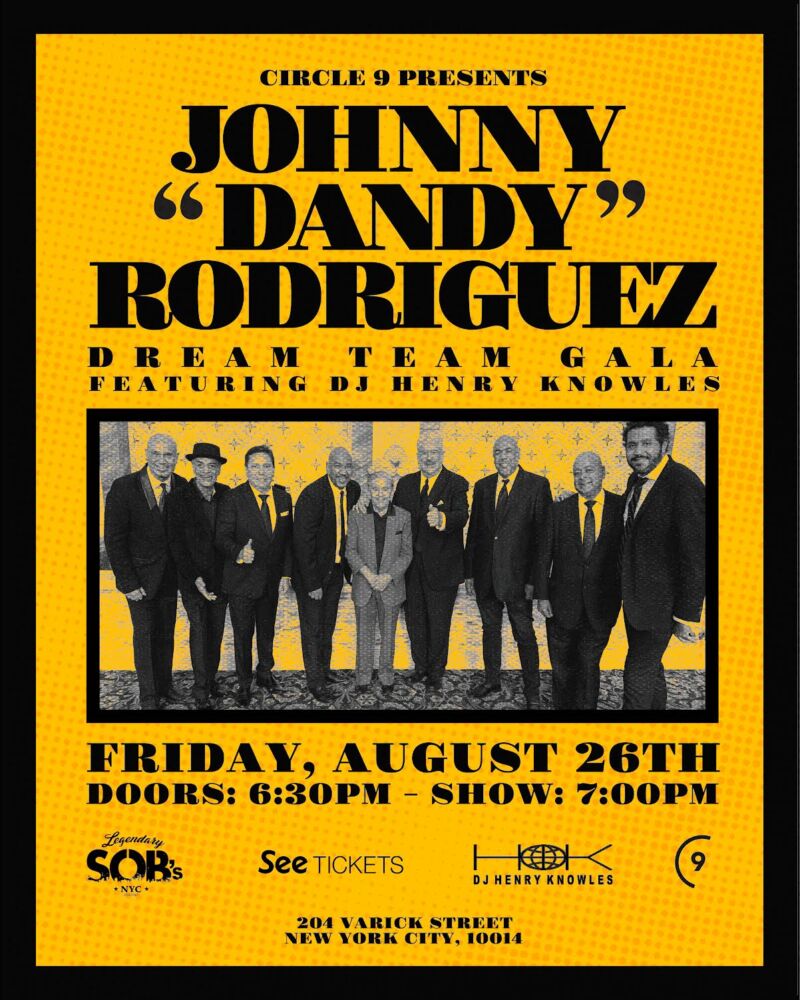 SHARE THIS
EVENT
Aug 26, 2022 | Doors 6:30 pm
Circle 9 Presents: Johnny "Dandy" Rodriguez Dream Team Gala
Tickets: $20
Age 21+
Feat. DJ Henry Knowles With: Nelson Gonzalez, trés guitar Pete Nater, trumpet Doug Beavers, trombone Ali Bello, violin David Santiago Jr., flute Arturo Ortiz, piano Jerry Madera, bass George Delgado, congas Johnny "Dandy" Rodriguez, bongos Jimmy Delgado, timbales Fernando Pinto, vocals With Special Guests: Jeremy Bosch, vocals & flute Karen Joseph, flute More special guests TBA!
Experience Johnny "Dandy" Rodriguez and the Dream Team with DJ Henry Knowles on August 26th at S.O.B.'s in NYC! 
Circle 9 Records is excited to present a brand new partnership with the legendary NYC music club S.O.B.'s to present Circle 9 artists in a world-renowned New York City music venue and unite the local music community around accessible music of quality and culture.
The Johnny "Dandy" Rodriguez Dream Team Gala is a special fundraising event to record the legacy of John Rodriguez, a world-renowned bongocero who is a salsa legend and performed and directed the Tito Puente Orchestra for more than 33 years. "Dandy" is a veteran of Tito Rodriguez, Machito, Willie Rosario, Celia Cruz, Fania All-Stars, Ray Barretto and virtually the entire pantheon of salsa's pioneers.
All proceeds from this event will go to the recording of Johnny's seminal "Dream Team" outfit, a band which captures the essence of the great descarga recordings from the Alegre and Tico record labels of the 1950s and 60s, and which has been one of NYC's hottest salsa bands for 5 years. The recordings, scheduled for September 25th and 26th of this year, will be recorded as a single take and live with all members of the Dream Team present, thus capturing the essence and feel of the great Alegre All Stars, Tico All Stars, Cesta All Stars sessions.
The recording sessions on September 25th and 26th will be live-streamed, and available to subscribers of Circle 9. Gold and Circle 9 Vinyl Club subscribers will be presented with VIP tickets to this event.
Fans of Johnny Rodriguez "Dream Team" can donate to recording right here:
About Circle 9
Created by Grammy® winning producer, trombonist and composer Doug Beavers and based in the New York City area, Circle 9 is a hybrid, subscriber-supported independent record label and full music production service offering end-to-end music creation including mixing and mastering, composition and arrangement, and music production by Grammy® award winning composers, producers and engineers.
Circle 9 is committed to bolstering the music community by providing musicians access to world class label service and world renown venues in which to perform, uniting the community at large around accessible music of culture and quality.